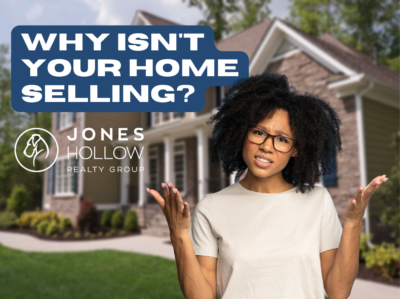 If you've been trying to sell your home on Long Island without success, you may be wondering what's holding you back. Is it the price, the location, the condition, the competition, or the marketing? Or is it a combination of factors that requires a fresh approach? Whatever the reasons, Jones Hollow Realty Group can provide the expertise, experience, and dedication you need to get your home sold.
At Jones Hollow Realty Group, we understand that selling a home can be a challenging and emotional process. That's why we offer a personalized and comprehensive approach that puts your needs and goals first. We are not a franchise or a big corporation that treats you like a number. We are a local and independent real estate brokerage that values your trust and satisfaction. We are also a team of licensed and professional agents who specialize in marketing, advertising, and negotiating the best deals for our clients.
Here are the top 5 reasons why houses don't sell, and why Jones Hollow is the right choice to overcome them:
Overpricing: If your home is priced too high, it may scare off potential buyers who can find better value elsewhere. We will conduct a comparative market analysis (CMA) to determine the fair market value of your home, based on recent sales, current listings, and market trends. We will also help you set a realistic and competitive price that reflects the condition, location, and amenities of your property.
Poor condition: If your home is outdated, cluttered, or in need of repairs, it may turn off potential buyers who want a move-in ready or low-maintenance home. We will advise you on how to stage and declutter your home, as well as suggest cost-effective upgrades or repairs that can increase its appeal and value. We will also highlight the unique features and benefits of your home that make it stand out from the competition.
Inadequate marketing: If your home is not visible or attractive to potential buyers, it may get overlooked or forgotten in a crowded market. We will create a custom marketing plan that showcases your home's best features and reaches the right audience through multiple channels, such as online listings, social media, email campaigns, open houses, and print advertising. We will also provide professional photos, videos, and virtual tours that capture the essence and beauty of your home.
Limited exposure: If your home is not accessible or available to potential buyers, it may limit their interest or ability to see it. We will ensure that your home is listed on multiple platforms, such as the Multiple Listing Service (MLS), Zillow, Trulia, Realtor.com, and our own website, as well as other niche or international sites that target specific buyers. We will also coordinate showings, provide feedback, and keep you informed of any offers or inquiries.
Lack of communication: If your agent is not responsive or proactive in keeping you informed or involved in the selling process, it may cause frustration or distrust. We will assign a dedicated agent who will be your main point of contact and who will keep you updated on the progress and feedback of your listing. We will also listen to your feedback, answer your questions, and provide honest and constructive advice that helps you make informed decisions.
As Brad Wilson, broker of Jones Hollow Realty Group, says: "We are not just selling homes, we are building relationships. We care about our clients and their homes as if they were our own. We are passionate about what we do, and we are committed to getting the best results for our clients. Give us a call today and let us show you how we can make a difference in your selling experience."
So, if you want to sell your home on Long Island, don't let the obstacles hold you back. Choose Jones Hollow Realty Group and experience the difference that a dedicated and personalized approach can make. We will work hard to earn your trust and satisfaction, and we will not stop until your home is sold for the best price and terms. Contact us today to schedule a free, no-obligation consultation and let us help you turn your home selling dreams into reality.