As we get ready to transition into the spring season of 2023, it's exciting to see which paint colors are becoming more popular in home decor. At Jones Hollow Realty Group, we always stay up-to-date on the latest trends to provide our clients with the best advice for their home buying and selling needs. Here are some of the most popular paint colors that people are using in their homes this spring: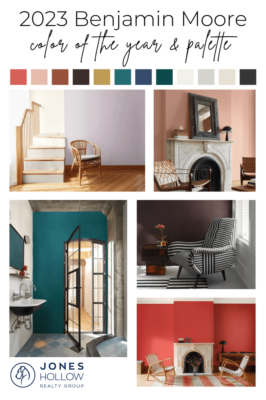 1. Soft Blues and Greens
Soft blues and greens are perfect for creating a calming and relaxing atmosphere in your home. From pale sky blues to muted sage greens, these colors provide a sense of serenity and tranquility. They're especially popular in bedrooms and bathrooms, where homeowners want to create a soothing and peaceful retreat.
2. Warm Earth Tones
Warm earth tones, such as terracotta, rust, and caramel, are making a comeback this year. These colors provide a sense of comfort and warmth, which is especially important as we spend more time at home. They pair well with natural materials like wood and stone, creating a cozy and inviting atmosphere.
3. Bold Jewel Tones
Bold jewel tones, like emerald green and sapphire blue, are a great way to add a pop of color to your home decor. These hues are rich and luxurious, making them perfect for accent walls or statement furniture pieces. They pair well with metallic accents like brass or gold, adding a touch of glamour to your space.
4. Soft Neutrals
Soft neutrals, such as beige and taupe, are a timeless classic that never goes out of style. These colors provide a versatile backdrop for any style of decor, making them a popular choice for homeowners who want to create a cohesive and cohesive look. They pair well with pops of color like vibrant artwork or patterned textiles.
No matter which paint colors you choose for your home, it's important to remember that they should reflect your personal style and taste. At Jones Hollow Realty Group, we're here to help you navigate the latest trends and find the perfect home to fit your lifestyle. Contact us today to learn more about our real estate services.