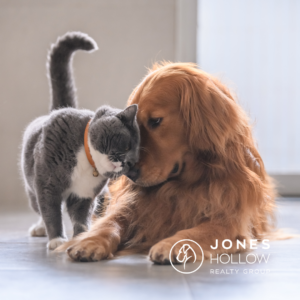 After all, pets have a big say in real estate. Eighty-one percent of Americans say animal-related considerations play a role when deciding on their next living situation.  Eighty-nine percent of those surveyed said they would not give up their animal because of housing restrictions or limitations. Twelve percent of pet owners have moved to accommodate their animal, and 19 percent said that they would consider moving to accommodate their animal in the future. REALTORS® surveyed said that one-third of their pet-owning clients often—or very often—will even refuse to make an offer on a home because it's not ideal for their animal.
Pet ownership is booming across the country. Seventy percent of U.S. households own pets, up from 50 percent a generation ago, according to ProShares Pet Care ETF, an exchange traded fund focused on the pet care industry. Ninety-five percent of pet owners consider their pets part of the family, according to a Harris Poll.
Dogs are part of the family, so it's important to factor in our furry friends when choosing a place to live.  Highlighting dog-friendly amenities like a spacious yard or a mudroom for dirty paws in your listing can make it easier for buyers to find the home of their dog's dreams.
What are some of the top pet-friendly amenities in homes? Real Trends recently highlighted several home essentials that buyers crave for their pets: ample outdoor space, pet nooks (like a tucked away nook with a built-in bed), a pet chat system (a way to communicate with your pet from anywhere using video or audio devices), pet washing stations (like in a mudroom or laundry room), and a pet door (a door insert so pet cans let themselves out and back in).