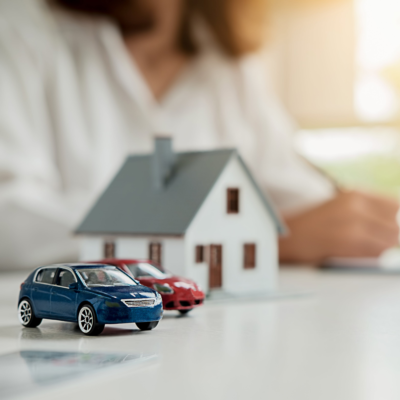 Before you start shopping for a home, you need to shop for a real estate agent. But finding the right fit can be a very personal experience, especially if it's your first time shopping for a home.
When you have your pick of dozens of realtors, how do you find the right one for you? Here are six things you should look for to help you decide.
Referrals from others
A good place to start is asking family, friends, and coworkers in your area for recommendations. Sure, you can read online reviews, but it's better to get referrals from someone you know and trust. There's just one caveat — what you need may be different from what your friends and family needed.
As you talk with others, consider how closely your personality and housing needs compare to theirs. The more the person's goals and temperament are aligned with yours, the more likely their referral is to be a good match for you.
Technology and communication habits
When you're dealing with the stress of buying a home, you want someone who will communicate with you on terms that work for you. Are you a busy working parent who prefers to get preliminary information by email? Or are you overwhelmed looking at a screen and prefer a phone call? Do you set up appointments by text — or do you prefer to schedule online, by phone, or by email?
Whatever your preferences, your real estate agent should be able to adapt to your needs and preferences. As you reach out to agents to gather preliminary information, you'll get a sense of how they communicate, and how responsive they are if you ask them to move to a different way of doing things.
Ultimately, even the best agent isn't a good fit for you if they're not able to meet you on your communication terms.
Good fit for your needs
Some home buyers focus on how many years of experience a particular agent has. But while years of experience are helpful, they don't necessarily make an agent the right fit for you. What you need is someone with experience working with buyers like you.
But what does it mean to be "like you"?
Here are some things to consider:
Are they experienced — and skilled — at working with first-time or novice homebuyers?
Do they have experience working with buyers in your price range?
Do they have experience working in the area you want to buy? Sure, they're in the general area, but they should have deep experience in the town or towns you are interested in buying in. If most of their sales are in other towns, they may lack the intimate familiarity with the market you want to buy in.
Do they have expertise with the type of home you want to buy? This is especially important if you're looking to buy a single family home in a deed-restricted community, a condo or townhome, or a multifamily property.
Watch out for red flags
Staying alert to potential red flags — and paying attention to your gut instincts — will help you avoid problems down the line. Here are a few red flags you should specifically be on the lookout for.
Refusing to work with you until you have a pre-approval letter
A good agent should have deep connections in the mortgage world and be able to help you find the right lender. They should also be able to help you get a sense of the market while you do pre-approval paperwork with your bank.
If an agent won't talk with you about the market or take you to see some homes before you have a pre-approval letter, find someone else.
Pressuring you to sign extended contracts
Most agents will ask you to sign a contract that gives them exclusive rights to represent you. The idea behind this is fair enough: The agent doesn't want to do the work of helping you find a home only to have you have another agent make the offer — and get the commission. In addition, in many states, the agent is working for the seller when they show you a home — unless they've signed a buyer's agreement with you.
That said, those contracts don't have to be long-term. To start, it's wise to start with a shorter period of time —a weekend, a week, a month — at least to start. If an agent you have no experience with is pressuring to sign a 3-month, 6-month, or even year-long contract, it's wise to walk away.
Once you sign a contract, it can be hard to break, and you're often on the hook for a commission to the agent if you buy any home during the contract period — even if it's not one the agent showed to you. This can effectively shut you out of the housing market for the contract's duration if you sign with an agent who turns out to be a dud.
Not answering your questions
Your agent should be able to openly and clearly address any questions you have about a property, provided you've signed an agreement with them for them to represent you. That's why it's so critical that the initial contract you sign with them be for a limited time and/or a specific property. If you've signed the proper papers and the agent is still dancing around key questions, it's time to get out.
Unwilling to write up an offer for you
Your agent may not like the terms you're offering. They may think you should offer more money, or fewer contingencies, or a faster closing time. But ultimately, their job is to advise you — and then write up an offer that accurately reflects what you want to offer.
Chemistry and personal compatibility
While you may luck out on finding a home the first weekend you go house hunting, the average home buyer spends more than 4 months shopping1 for a home. After that, your agent will be shepherding you through the inspection, mortgage, and closing process, which typically takes one to two months. That's why chemistry and personal compatibility are a critical part of the equation when choosing a real estate agent. If you don't click with your agent, shop around until you find the one that's right for you.
Is the agent a source of good referrals?
Many properties you'll look at will need some work. Perhaps the roof is nearing the end of its useful life, or the outlets need to be grounded, or you'd love the house — if only it had a second bathroom. Who can you contact to get an estimate during the inspection period? First-time homeowners and newcomers to an area are unlikely to have deep connections in the home renovation and repair world.
A good realtor should be able to give you a short list of recommendations for any housing-related needs. If the realtor tells you to just "Google it," it's probably time to find a realtor who's a better fit for you.