BY ARLENE GROSS – LI Press, September 2022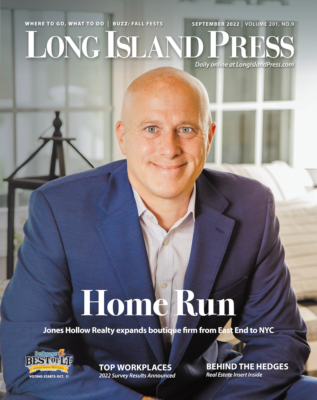 Getting personal is what Jones Hollow Realty Group is all about.
Known for its marketing, innovation, and full array of real estate services, Jones Hollow Realty Group is a boutique real estate agency that prides itself in working with each client in a uniquely personal way.
"Instead of focusing on the number of transactions we close, our agents are laser focused on customer service," says Brad Wilson, owner/broker of the East Islip-based firm.
Since its inception in early 2020, Jones Hollow Realty has concentrated mostly on Long Island's South Shore market, from Amityville to Bohemia. While its agents have become the go-to real estate pros for this niche South Shore area, Jones Hollow has also recently expanded its reach, to include Astoria to the west, the Hamptons tot he east, and all communities in between.
FROM FINANCE TO REALTY
After a quarter century working on Wall Street, Wilson began investing in residential redevelopment. Following the purchase of 50 acres in the Catskills, the entrepreneur built a cabin for himself on Jones Hollow Road, which then served as inspiration for his budding agency's name. Immediately after, he bought an old abandoned 200-acre dairy farm and developed a small log cabin subdivision.
What started with just Wilson and one other agent has since grown into a robust real estate agency with 25 agents, all of whom are experts on all aspects of the real estate industry.
Wilson attributes much of the firm's success to his ability to attract talented professionals and maintain strong ties to the community. "We hold ourselves accountable for every detail – big and small – and work with an extremely reliable network of proven professionals who do the same," says Wilson.
A FULL-SERVICE AGENCY
For buyers, Jones Hollow offers expert contracting services through Jones Hollow Contracting, an ancillary company owned by Wilson. "if you love the house , but you hate the kitchen, we'll try to get the kitchen done before you move in," says Wilson, adding that this service is also available to a seller who might need to spruce up their home with, for example, a fresh coat of paint, to make it more marketable.
If the home isn't ready to be sold, they'll advise the seller accordingly.
"I think most real agents do, but most aren't in the position to get the work done," Wilson explains.
Jones Hollow will also stage a home, provide custom design, and find the best financing, enabling buyers to move in quickly and hassle-free.
For each home seller, Jones Hollow develops a customized marketing plan, utilizing the best customer relationship management technology to reach the optimal audience.
"Our firm utilizes some of the best technologies available to the industry, which, when incorporated with our own cutting-edge customized marketing, is second to none," says Wilson.
For each home, Jones Hollow does a market analysis to accurately price it and sell it for as close to the original listing price as possible using a network of award-winning photographers and videographers, promotion through its website, brochures, YouTube, Facebook, mail and email campaigns, exposure through One Key/MLS, Zillow and other real estate websites, virtual tours, and open houses.
COMMUNICATION IS KEY
At Jones Hollow, sellers preapprove MLS and other internet listings and receive emails with feedback from other agents on all showings. Agents call or meet weekly or biweekly with sellers with updates, regularly adjusting the strategy to get the home sold.
For each sale, Jones Hollow reviews and presents all offers to the seller to negotiate the most favorable sales outcomes, prequalifies and preapproves prospective buyers to leave no doubt about their purchasing ability, and does everything necessary to ensure a smooth closing.
Through its Jones Hollow Management Company subsidiary, the agency will also work with sellers who need an immediate sale to make a cash offer based on the home's evaluation, often within a 24-hour period.
From its very start, Jones Hollow's mission has been to raise the bar in real estate services on Long Island.
"The days of simply planting a For Sale sign in the yard and waiting for the phone to ring are long gone," says Wilson.
And every day, Jones Hollow is proving that the boutique real estate agency is truly a step ahead of the rest.
Click to view full article – Digital Version – LI Press, September 2022