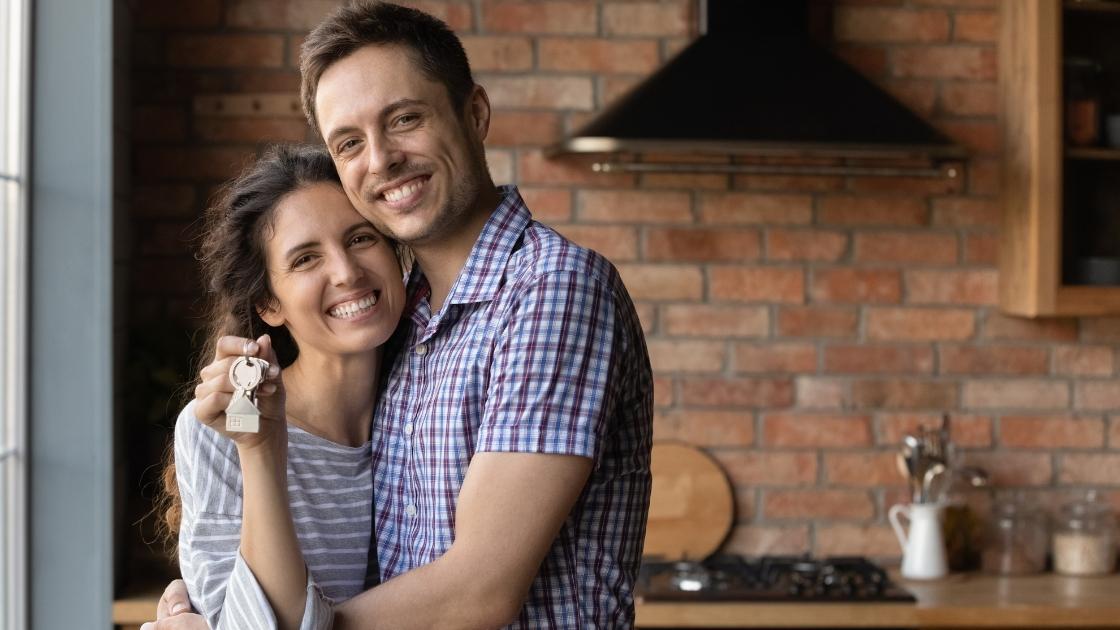 As closing day nears, you're anxiously awaiting the moment when you'll finally become a homeowner. Up to this point, you've scrimped and saved for a down payment, spent weeks searching for a home, and finally found the house of your dreams.
You've made it through a long closing process and likely already overcome several challenging roadblocks. But there's still one big step left — you want to be mentally and logistically prepared for all that's to come.
If you're like most homebuyers at closing, the happy rush of buying a home battles with fear as you sign your name to a massive mortgage while facing down an intimidating stack of papers covered in legalese.
To help calm your nerves, we've compiled a list of closing day tips for this incredibly momentous occasion.
Tip 1: Remind yourself that you're not spending your savings, you're investing it in real estate.
It's only natural to feel butterflies on the day you make the major financial commitment to buy a house. Watching your savings account take a nosedive after making the down payment and covering closing costs is a shock to any system. And signing what may be a six-figure mortgage with a 15- or 30-year tenure is a huge commitment.
When you start to second-guess your decision, remember that a mortgage is what experts consider to be good debt because real estate typically appreciates in value over time. It's the old "spend money to make money" line of thinking.
Through purchasing a house, you're investing in an asset that you should have every reason to believe will increase in value over your course of ownership. Take comfort in the fact that, historically speaking, real estate is a more consistent wealth builder than other investments.
Tip 2: Calm mortgage payment panic with a solid repayment strategy.
Be prepared for panic when you realize that most of your early mortgage payments go toward interest rather than paying down your principal loan balance. That panic becomes paralyzing when you think about how old you'll be when you finally pay off your 30-year mortgage.
So keep this in mind: A little more money goes toward your principal balance with every payment you make. And if you want to speed up your end goal of paying off the house, you'll have the ability to do that at your discretion.
We jokingly tell buyers not to look at the amortization schedule because it's sad how little money goes toward paying down the principal loan in the first year.
Instead, we tell them that you can build that equity investment faster if you pay one extra mortgage payment a year toward the principal only. (Note: You may need to specifically tell your lender you want to apply the additional payment to principal only so they don't just flag it as an early payment for the next month. This will ensure the entire payment goes to principal.)
For example, let's say you've got a $1,200 mortgage payment. If you earmark one extra payment a year, that's just putting aside an extra $100 a month.
Tip 3: Plan your route in advance and give yourself ample travel time.
With your nerves already on edge, the last thing you need is to be late to your closing appointment. The negative energy that comes when you keep people waiting will suck all the joy out of day. Plus, you'll feel rushed while making a huge financial commitment, which will only feed any doubts you have about the home purchase.
Avoid this stress with a bit of careful scheduling and travel planning. In most cases, your closing appointment will happen at a location you've never been to before, such as the title company's office. Plan the best route to this unfamiliar locale in advance with your favorite GPS app. Be sure to account for potential road closures and inquire ahead of time about the parking situation.
Tip 4: Arrive early and set aside at least an hour for the meeting.
If you want to arrive with plenty of time to spare, check your map app within the same timeframe that your appointment is scheduled, and add at least 15 minutes to the projected travel time estimate.
For most buyers, the closing appointment typically takes less than an hour to sign all the loan paperwork.
We recommend that buyers arrive 10 to 15 minutes early because the paralegal is going to need to make copies of your driver's licenses before the attorney notarizes the closing documents.
Tip 5: Check that everyone on the mortgage has their identification along.
All a buyer really needs to bring to the closing is legal identification and payment for the closing costs.
Several times we've had couples forget to bring one spouse's ID to the closing. One time, the couple met up to drive to the closing appointment together, only to realize the husband left his wallet in his truck after they arrived. So we had to stop what we were doing so he could go get it.
To cover all your bases, you should also check with your agent on whether you'd need to bring any of the following:
Proof of homeowners' insurance
Separation agreement or divorce order
Living trust documents (if you're designating a trustee at your closing)
Documentary or transfer stamps (only in states that charge a transfer tax)
Tip 6: Plan out your method of payment.
The attorney handling the closing will let buyers know a few days in advance if they need to bring money to cover closing costs or the remainder of the down payment.
Don't plan on paying your closing costs with a personal check or money order, though. Attorneys typically won't accept those forms of payment at all because there's so much history of counterfeit checks and money orders.
It may be acceptable to bring a cashier's or certified check; however, it all depends on the form of payment the attorney or title company will accept.
The attorney or title company representative will provide you with the exact amount required, and how it should be paid — such as by wiring the funds from their bank to the attorney in advance of the appointment. If you are bringing a cashier's or certified check, verify the exact amount required in advance so there's no need to arrange a refund.
In addition, make sure that the person contacting you about where and how to transfer the money is actually the attorney or title company representative and not a scam artist.
Tip 7: Never wire your closing funds per email instructions without verbal confirmation.
Buyers need to be aware that, if the attorney is requesting a wire, those instructions will never be emailed because there's a huge issue with wire fraud right now.
Third parties are hacking the emails of attorneys and agents to send fake messages that divert these wires to fraudulent bank accounts. So we tell everybody, if you are wiring funds to the attorney, call the attorney or your agent to verify the wiring instructions. And never change wiring instructions without talking to somebody at the attorney's office.
Note: Don't call the number provided in any email instructions you receive. Call your real estate agent to get the correct title company number to verify the payment instructions.
Tip 9: Review your Closing Disclosure in advance.
The mammoth stack of paperwork that needs to be signed and notarized makes a lot of buyers nervous on closing day. With the financial weight of the mortgage on the line, it's tempting to want to examine every word on each page — which would take the better part of the day.
At the closing, the attorney goes through the loan package to have the buyers sign everything.  It's a big stack of paperwork, but a lot of buyers would feel better if they realized it's just the loan application and several other disclosures, most of which they've already seen.
You can do your due diligence by reviewing your Closing Disclosure (CD) prior to closing day, which will include important details including your loan terms, interest rate, and estimated monthly housing payment.
Your lender will be required to provide you with your CD three business days in advance, and the Consumer Financial Protection Bureau has a handy checklist to guide you through how to check for any problems and flag them in advance if necessary. A few baseline items to confirm include:
The spelling of your name, address, and contact information
The interest rate
The loan amount, type, and terms
Information related to any seller concessions, warranties, and fee coverage
Tip 10: Ask exactly how you should sign your name before you start signing any paperwork.
When you close on a house, you're signing legally binding documents. In many cases, signing initials — or a first initial plus your last name — won't do. So ask the loan officer present what's preferred before you put ink to paper. Most likely, you'll need to sign your first name and last name in full for every signature box.
Tip 11: Understand you may not get the keys at the closing appointment.
Since your closing appointment is the moment when you legally own your new home, it's only natural to expect to get the keys to the house at the same time. That can happen, but not always.
In fact, you may not officially own the house at your closing appointment even if you've signed all the paperwork, paid your closing costs, and made your final down payment.
Getting the keys may also depend on the wording of your purchase agreement, since some agreements include language that says you don't get the keys until three days after closing. So double check your purchase agreement for when you're officially set to take possession.
Tip 12: Commemorate the moment.
When you're wrapped up in the weightiness of this major financial transaction, it's easy to forget to enjoy the fact that you'll soon be the owner of a beautiful home.
Homeownership is definitely a cause for celebration and a moment you'll want to remember forever.
Champagne at the closing is appropriate, and we definitely do photos at the signing or when the buyer gets the keys to the house.
Go into your closing day with confidence
The day you close on your house is filled with a chaotic mix of excitement and anxiety. With this comprehensive guide, you've got all the tips you need to know to go into closing day fully prepared and ready to take this final step with confidence.