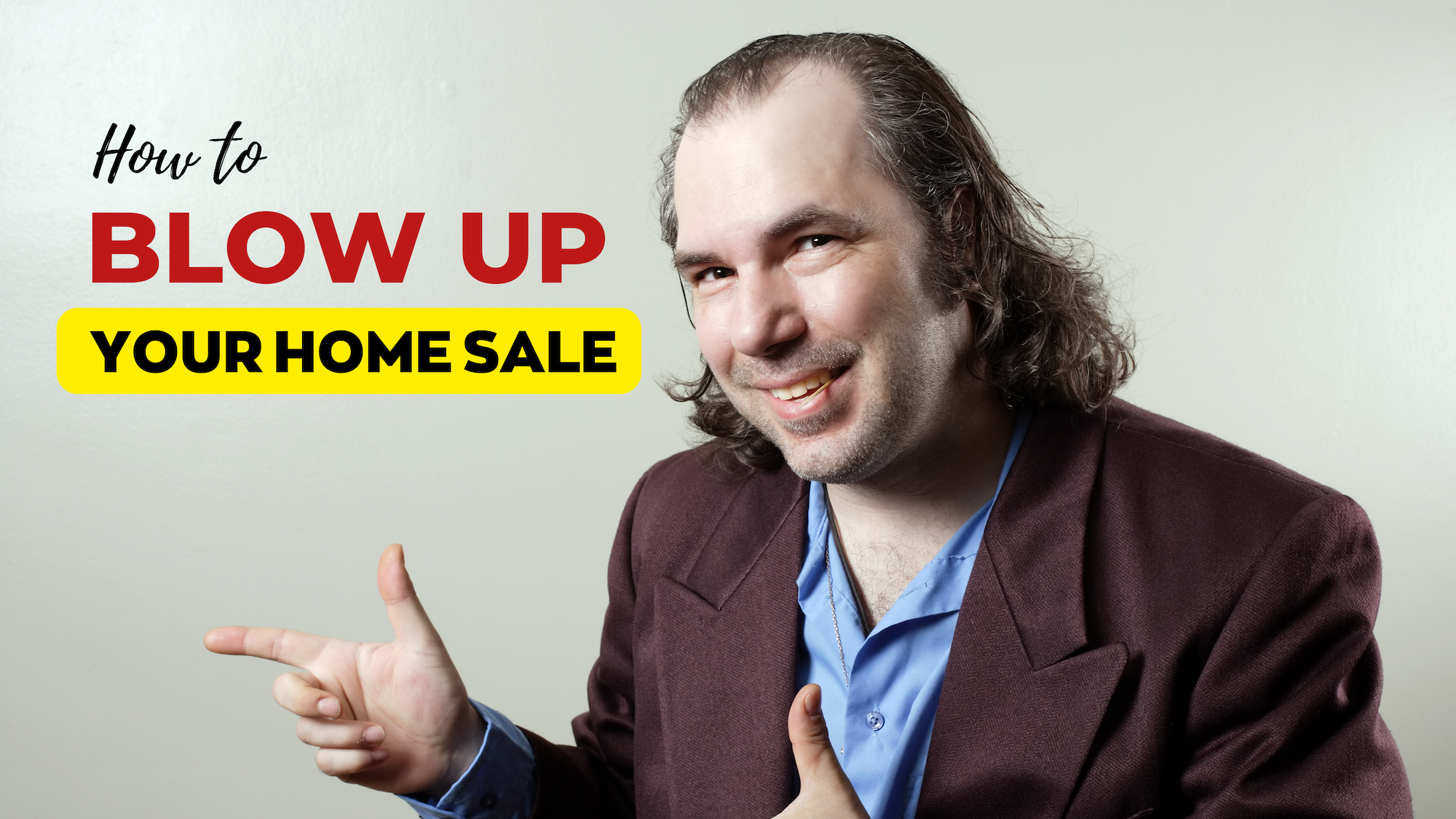 (1) OVERPRICING YOUR HOME
Overpricing is a great way to blow up the sale on your home.  Overpricing your home is one of the more common mistakes a home owner will make. Data in the Multiple Listing Service shows us that most home sell  with-in 0-3% of the asking price.
What does that tell us?  If you overprice by 3-5% it will be an uphill battle to try and sell your home.
As a home seller, if you overprice by more then 5% and you aren't even showing your home to the right buyers, even if you get showings.  Pricing a home can sometimes be hard but usually there is historical data that is available to help you make the proper pricing decision on your home.
Your REALTOR should prepare a Comparative Market Analysis for your home.  Take the time to understand the comparable properties and why your agent is recommending a certain price for your home.
No amount of marketing or open houses will sell an overpriced home.
(2) DENYING ACCESS TO YOUR HOME
Yes, to actually sell your home you have to allow home buyers to view it.  You can't list your home and cancel or deny 50% of the showings and expect to sell your home.  I recently had a home seller who has had 35 showings try to schedule.  Out of 35 the seller has denied 20.  I am sorry mister and misses home seller I cannot sell your home if you do not allow showings to occur.
One cancelled or denied showings and the buyer may reschedule.  Two cancelled/ denied showings and good luck.  The home buyer has probably moved on. Buyers get excited when they see a home they like online but can be quickly distracted when new ones come along.
(3) NOT LEAVING YOUR HOME DURING SHOWINGS
If you do not leave your home, it makes buyers very uncomfortable.  They rush through the showing not taking the time to properly view your home.  Most showing last between 10-20 minutes.  Just leave.  Not only does your home leave an impression on home buyers, so will you.  Selling a home is about impressions and it is hard enough with out adding one more element.
We have done showings with people sleeping in beds, sports fans going crazy, people smoking while on the phone… its a turn off!
Your home buyers are making a big financial decision, let them view your home and not feel pressured, uncomfortable or rushed.
(4) NOT PREPARING YOUR HOME PROPERLY
De-cluttering, depersonalizing and cleaning your home is a priority when it comes time to sell.  Sometimes small repairs can also have a serious impact on the sale of your home.
A home sale doesn't just happen.  It is a collaboration between you and your agent to formulate a carefully crafted plan to get your home sold.   Ignore just the basics and you will turn off buyers.
Your home needs to be ready to show even prior to showings.  Your home will be photographed prior to your listing going live and it need to be in tip top showing condition for the photos.
(5) ASSUMING EVERYONE LOVES FIDO LIKE YOU DO
Not everyone loves animals, as a matter of fact many people are scared of animals.
For non-animal lovers the signs of a pet conjures images of flooring trashed by pet stains or smells they can't get rid of.  Try and minimize the fact that you have a pet and try to neutralize all pet odors.
Just yesterday I had a showing, when I showed up there was a snarling dog going crazy.  I called the agent and they said the dog would be fine once we went into the house.  Guess what the buyer said no way, they were scared of dogs.
Your pet is important, I get that.  But, if at all possible try to remove your pet for showings.  If you can't at least contain them.   Minimize any evidence of a pet in your home as well.
(6) USING LOUSY LISTING PHOTOGRAPHS
In today's day and age home buying is about viewing listings of your home online.
What do buyer's want? Quality listing photos of your home.  They are making decisions about your home based on what they see online.  Photos that are dark, out of focus and crooked are no longer acceptable.
Many real estate agents now are hiring professional real estate photographers if they can't take great listing photos themselves.  Some are even hiring photographers who use drones to market your property!! Make sure you are reviewing actual listings of your listing agents and determine if they are providing good quality photos of the home they are listing.
(7) IGNORING FEEDBACK FROM THE BUYERS WHO HAVE VIEWED YOUR HOME
Feedback from home buyers is one of the best tools that you have when your home is listed.  But, it is not always easy to read between the feedback of a home buyer. One bad comment here or there is not necessarily a reason to change something.  You are looking for a pattern.  If four people in a row say all the carpet needs to be replaced, then you probably need to address that.
Or, maybe the home buyers keep indicating the kitchen is outdated.  Now that may not be something that may not make sense to redo, so a price reduction may be in order.
Remember when it comes to feedback, if there is a repeating theme, the home buyers are telling you "your home is lacking in this area compared to the other homes we are viewing".  Buyers don't stop looking just because they don't buy your home.  They usually go on to buy another they perceive as having more value then yours in a short period of time.  Your house is competing for buyers attention.
Pay attention to the feedback there are clues in the feedback of why your buyers may not be buying.
BONUS MISTAKE- HIRING THE WRONG REAL ESTATE AGENT
Some of the mistakes are hiring a "yes man", the agent who tells you what you want to hear. Or, hiring a family member who may not be the right agent for the job.
Or the biggie…. hiring the agent who offers the lowest commission and disregarding what they actually bring to the table to sell your home.
Really try and pay attention.  The agent that will successfully sell your home has an effective marketing plan.  They will tell you exactly what they will do to sell your home.
FINAL THOUGHTS ON COMMON MISTAKES HOME SELLERS MAKE
First when hiring a REALTOR to sell your home, use your judgement.  Are they providing good information about the market and pricing information on your home?  Do they have the experience and marketing plan to get the job done?
If you have hired the right agent most of the other mistakes will be under control.  A good agent will communicate effectively what you need to be doing so you don't BLOW UP your own home sale with some of the common mistakes home sellers make.